During these crazy times, when bad news is all around, it's a relief and pleasure for us to announce we received some great news recently. The results of our unique clinical study in which we investigated the effects of combination of CoQ10 and collagen on skin, have finally been published. We have proven that collagen and CoQ10, both of which contains our liquid food supplement Valens Premium Collagen Complex, act synergistically and that effects on the skin are greater than the simple sum of both ingredients taken individually. Intrigued? Red more!
Collagen supplements for skin, nails and hair are currently the »new black«, and with many available on the market, it is hard to choose a good product. We have received many questions lately about what separates our Valens Premium Collagen Complex, a product with liquid collagen, from other similar products. Just to summarise, here are our answers in a few lines:
Valens Premium Collagen Complex contains high quality hydrolysed fish collagen Naticol®, which has been proven to have great effects on skin.
It contains Q10Vital®, water soluble CoQ10 with improved bioavailability, for which we have proven with our own clinical study to improve appearance of the skin.
Contains vitamin A, biotin, zinc, selenium and vitamin C, which contributes to the formation of collagen.
It comes in a glass bottle and in liquid form, which makes it easier to consume on daily basis.
Only costs 1 €/day.
Great pina-colada-like taste (coconut, apple and pineapple aromas).
Now we can add clinically proven to that!
First study about effects of a combination of Coenzyme Q10 and Collagen on skin*
Wide range of nutritional supplements, including collagen Naticol® and Quvital® have already been examined and proven to have beneficial effects on skin, however the effect of a combination of CoQ10 and collagen has not yet been investigated. Hence, Valens initiated a new study to prove beneficial effects of supplementation with CoQ10 and collagen complex on skin. Our goal was to investigate the effects of Valens Premium Collagen Complex, containing a combination of water-soluble coenzyme Q10 (Q10Vital®) and collagen peptides on dermal density, wrinkle area, skin-smoothness and other skin parameters.
The study was conducted on 34 healthy females, aged between 40 and 65. We divided them into two groups – test group consumed daily dose of Valens Premium Collagen Complex for 12 weeks and placebo group consumed flavoured and coloured syrup without any of the active ingredients. The results were compared to baseline measurements as well.
Higher dermis density
Dermis is the middle, thickest and strongest part of the skin, covered by epidermis. It plays an important role in protecting the body from external environmental factors (pollution, sun exposure etc.) The most important structural components of the dermis are collagen and elastin, which provide strength and elasticity and dermis density is mostly related to the amount of collagen. Since the production of collagen starts to decline after the age of 25, first signs of ageing thus appear.
After 12 weeks of supplementation with Valens Premium Collagen Complex, the dermis density in test group was higher in comparison to placebo group, as well as to baseline in the test group. These results are almost double when compared to one of the previous studies with a higher dose of collagen (10 mg/day) and no CoQ10, indicating synergistic effects between CoQ10 and collagen peptides.
Less wrinkles and smooth skin
After 12 weeks wrinkles were reduced, especially on the area around the eyes, but on other face areas as well. Skin smoothness was also improved in the group consuming Valens Premium Collagen Complex, while there was even a slight decline in the placebo group.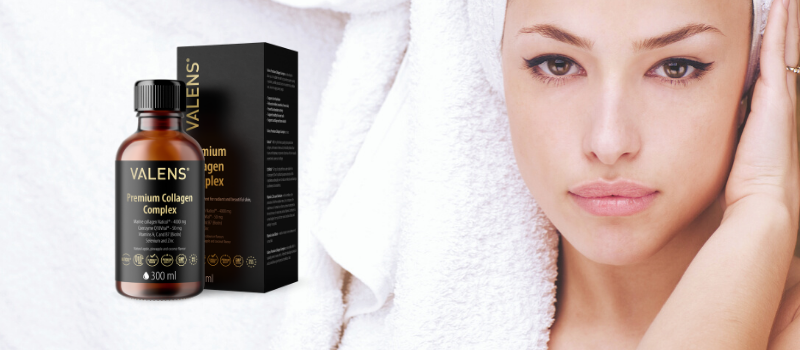 **You can find detailed results of the study here. 
1 € a day keeps the wrinkles away 😊
So yes, our arguments for quality are indisputable. Valens Premium Collagen Complex has been clinically proven to promote beautiful skin, and since it also contains other active ingredients, in contributes to the health of skin and hair as well.
Our product costs only 20 €, which means only 1 € a day. Less than a coffee 🙂 You can find the best collagen supplement in our webshop.
Stay healthy.